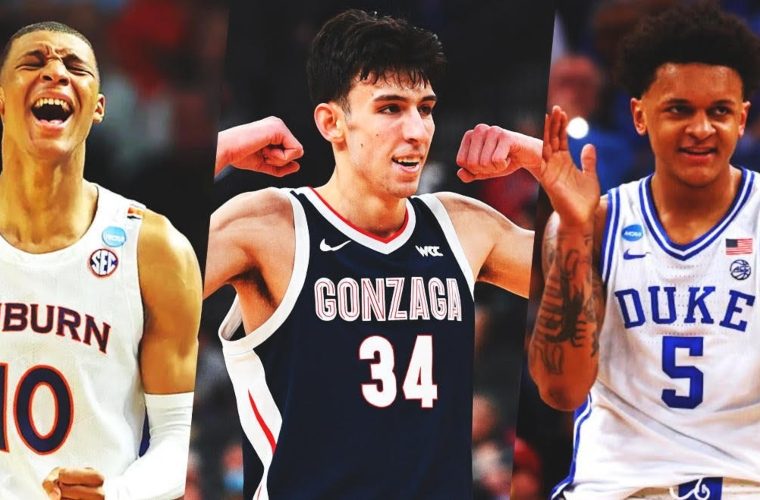 June 23, 2022
2022 Full NBA Mock Draft
The NBA Draft is just hours away, with the draft being kicked off Thursday, June 23rd at 8:00pm ET. This year features what feels like a loaded draft, with Paolo Banchero, Chet Holmgren, and Jabari Smith headlining the field. Q92 Sports Intern, Joey Keller goes through and picks all 58 selections in this mock draft, with multiple trades, big name selections and some interesting surprises.
Orlando Magic
Chet Holmgren, C Gonzaga
The Magic have their choice between Holmgren, Banchero and Smith, but ultimately land on Holmgren, due to their biggest need: Center. They could definitely use help at the power forward position, but between Franz and Moritz Wagner and the return of Jonathan Isaac, they can likely wait a bit longer. Mo Bamba never lived up to the hype, (he had a great song named after him though), and Wendell Carter Jr. has not proved to be a starting center in the league. Holmgren fills the hole perfectly and should give fans in Central Florida hope for the future.
2.  Oklahoma City Thunder
Jabari Smith Jr., PF Auburn
This may be the most difficult selection to pick due to the fact that it feels like a true coin flip between Smith and Banchero. However, I went with Smith in the end, simply due to his ability to do more with less in college. Granted, he wasn't alone at Auburn, but also did not have an entire starting lineup that could be first round picks at Duke. Whichever player OKC GM Sam Presti takes here should get Thunder fans excited, as the rebuild is beginning to come to fruition.
3. Houston Rockets
Paolo Banchero, PF Duke
With Holmgren and Smith off the board, Banchero will most likely be the easy choice for Houston. Not that bad of a consolation prize. Banchero was thrilling to watch at Duke and earned high praise from Coach K before, during, and after his brief Duke career. Houston is desperate to fill in pretty much every starting spot around Jalen Green, especially with Christian Wood being traded to Dallas. The addition of Banchero will also open up the floor and create more space for Jalen Green.
4. New York Knicks (Proposed trade with Sacramento)
NY receives 4th overall pick, 49th overall pick
Sacramento receives 11th overall pick, 42nd overall pick, 
2023 First Round Pick (via Dallas), 2024 First Round Pick
Jaden Ivey, G Purdue
Many people have said they think Ivey could sneak into the top three picks in the draft, but the only way I see this happening is if Houston were to take him over Banchero. I believe Ivey is on the same level as the three players picked before him, but OKC and Orlando simply don't need guards, which is why I have him dropping to 4th. Rumors have been picking up a lot that the Knicks are heavily interested in Ivey and want to trade up to grab him and even willing to offer multiple FRPs to do it. Ivey and Immanuel Quickley would make a great backcourt combo for years to come in New York.
5. Detroit Pistons
Shaedon Sharp, G Kentucky
The Pistons front office certainly deserves more credit than it is given. While the Pistons haven't been pulling in big free agents, which a rebuilding team isn't expected to anyway, they have quietly been drafting a great young core. Sharp could slide in with Cunningham to make another great young backcourt, along with Saddiq Bey looking like a true rising star, and Isaiah Stewart as an absolute menace in the paint (just ask LeBron). 
6. Indiana Pacers
Keegan Murray, PF Iowa
The Pacers were a part of one of the more shocking trades at this past season's deadlines, sending big man Domantas Sabonis to Sacramento for PG Tyrese Haliburton and wingman Buddy Hield. It won't take long for them to find his replacement, as Murray can slide right into that spot for Indy. Murray should also fit in great with the city and fanbase, being born and raised in the midwest and playing in B1G country for Iowa. Murray seemed to elevate his game against the best competition, a sign that he can shine on day one.
7. Portland Trail Blazers
AJ Griffin, SF Duke
Portland is in one of the most difficult positions of any team in the league. They still have Damian Lillard, so they can't tank or rebuild, but outside of Dame, they have just about nothing to compete in the playoffs. With Canton, OH native CJ McCollum now repping the 330 down in NOLA, pretty much every position is needed for the Blazers, so they must go with the best available. For me that's AJ Griffin. Griffin's stats may not be the most eye-popping for this spot, but as mentioned before, when you're playing with an entire lineup of potential FRPs, you're a lot more likely to share the wealth. Griffin is still a great athlete with great shooting, defense and ball-handling, which makes him a great value pick for Portland.
8. New Orleans Pelicans
Dyson Daniels, PG G-League Ignite
I absolutely love the direction that this Pelicans team is heading. For the first time since the Hornets days with Chris Paul, New Orleans feels like they have a plan to build and contend. CJ McCollum was a great addition for both his playmaking ability and veteran leadership to pair with the young forward duo of Brandon Ingram and Zion Williamson. With Jonas Valanciunas locking down the center spot for the time being, the only true position of need is at the point guard spot. Daniels is the best available PG on the board and with his size and physical play, will fit in perfectly down in NOLA.
9. San Antonio Spurs
Bennedict Mathurin, SF Arizona
The Spurs have fallen off from the dynasty we all knew for the entire 21st century. Dejounte Murray has established himself as the face of the franchise, but outside of him there is a desperate cry for help. Mathurin can step in and immediately be the number two option for Coach Pop. San Antonio also has two other picks later in the first round, which can allow them to be more flexible and select the best available, rather than the biggest need, but for me, Mathurin checks both boxes.
10. Washington Wizards
Johnny Davis, G Wisconsin
This is another one of the most difficult picks in the draft, due to the fact that Washington hasn't really shown any signs of contending, but also has not committed to a rebuild. Bradley Beal's future is up in the air, but more than likely he will run off to a team like Dallas or LA to contend right away. Washington needs just about everything right now, especially at the guard position with Beal's likely departure. Davis is exceptional at shooting and coach Greg Gard raved about his leadership at Wisconsin. 
11. Sacramento Kings (via New York)
NY receives 4th overall pick, 49th overall pick
Sacramento receives 11th overall pick, 42nd overall pick, 
2023 First Round Pick (via Dallas), 2024 First Round Pick
Ousmane Dieng, F New Zealand Breakers
The Kings have the backcourt under control for now, with De'aaron Fox at the point and sophomore Davion Mitchell. With Sacramento's acquisition of Sabonis, they have the center position under control, but would likely like to add a bigger forward to help out Sabonis in the paint. At 6'10" Dieng would fit in perfectly at the PF position, while also playing his natural SF position, due to the King's lack of forwards. 
12. Oklahoma City Thunder
Jalen Duren, C Memphis
The Thunder not only lock down a star forward at number two, but also their franchise center in Jalen Duren. Since trading Steven Adams two years ago, the Thunder have struggled to find production and reliability in the paint with 2020 first rounder Aleksej Pokusevski and veteran Derrick Favors failing to get the job done. Duren will slide into the starting lineup right away along with fellow first rounders Jabari Smith, Shai Gilgeous-Alexander, and Josh Giddey. The Thunder may be young, but have the capital to make trades that could shake the league like an earthquake. It's Sam Presti's world and we're all just living in it.
13. Charlotte Hornets
Jeremy Sochan, PF Baylor
The Hornets are another team with the luxury of the luxury of multiple first rounders and have two starting spots they need to upgrade. However, they are also the only team without a head coach, as Kenny Atkinson backed out of his deal last week to stay in Golden State. Until a couple weeks ago the most important need was center, but with Montrezl Harrell's future uncertain due to felony drug charges, the PF spot is needed as well. The Hornets can pick either one here as Cleveland is the only team picking between the two Hornet picks, and they have no need to draft a big man. Sochan would fit perfectly with this squad, with his elite defense and quick feet making him a matchup nightmare for other teams. His shot blocking ability will also be a gift to the entire league, as he'll provide plenty of opportunities for Hornets announcer Eric Collins to go nuts on the microphone.
14. Cleveland Cavaliers
Ochai Agbaji, SF Kansas
Cleveland is pretty much set in their starting lineup, but could use a true small forward. Ochai Agbaji doesn't seem to have any specific quality of his game that stands out, but does a little bit of everything well. Many have Agbaji sliding simply due to his age at 22, but for a team ready to compete, like Cleveland, this is a match made in heaven. Agbaji would fit in perfectly with the Garland-Sexton backcourt and Mount Frobley down low.
15. Charlotte Hornets
Mark Williams, C Duke
After Charlotte cleans up the other forward spot with Miles Bridges, they finally find the big man they have spent a decade looking for. After drafting players like Frank Kaminsky, Cody Zeller, and PJ Washington in the past, I think the Hornets finally find the center the fans have craved for years. Williams is an absolute tank, with the strength of a prime NBA player and the verticality that will make him a force in the paint. With the right coaching hire, this draft could elevate the Hornets from the play-in to the playoffs, and even a title contender in the near future.
16. Atlanta Hawks
Jalen Williams, G/F Santa Clara
Trae Young is an absolute star and I'm not afraid to say he's a top five PG in the league right now, but he's forced to carry way more of the load on offense than he should. Miami exposed this in the playoffs, which is why Atlanta must find another guard. Williams shined at Santa Clara, leading the Broncos to a couple big upsets in the WCC and going toe to toe with the best at Gonzaga. Williams proved he can score in heavy quantities while also shooting at a high percentage which is perfect for the Hawks. He can also stretch to play the SF spot, similar to the likes of Paul George or Demar DeRozan.
 17. Houston Rockets
TyTy Washington Jr., PG Kentucky
After adding Paolo Banchero earlier in the draft, the Rockets still have plenty of needs at guard, forward and center, so this pick could really go any way. For me, this is where I see Washington landing. He certainly isn't the most pro ready prospect in this draft, but the raw talent and flashes of potential at Kentucky make him worthy of a mid round pick and a chance to be the starting PG in Houston for years to come.
18. Chicago Bulls
Tari Eason, F LSU
The biggest offseason priority for Chicago has to be to resign Zach Lavine and everything else is secondary. Assuming that will happen, there isn't a lot of need for the Bulls. With the addition of Eason, he could develop as the team's small forward, while DeRozan can shift back to the shooting guard, which is his more natural position. At 6'8" Eason can also play some minutes at PF, rotating with the young Patrick Williams.
19. Minnesota Timberwolves
MarJon Beauchamp, G/F G-League Ignite
To me, the Timberwolves are alot like the Pelicans, but maybe a year or two ahead in the process. The Wolves gave the Grizzlies all they could handle, but at the end of the series simply seemed like they were just a step behind. The T-Wolves have KAT down low and a great young backcourt in D'Angelo Russell and Anthony Edwards, plus PatBev off the bench. They desperately need forward help though, and Beauchamp feels like the best pick here. Though he primarily plays the SG, at 6'7" he can easily fill the SF position. Chris Finch also likes to play a lot of positionless basketball, which makes me think Beauchamp would be able to slide in for a multitude of roles.
20. San Antonio Spurs
Malaki Branham, SG Ohio State
The Spurs second of three picks will likely go one of two ways: scoring help at the guard position or drafting a big man. I feel the Spurs pick the first of those options, as the team does not have many shooting threats outside of Murray. Poeltl may not be the flashiest center in the league, but he can stop the bleeding until the Spurs find their center of the future. For Branham, he brings an off ball shooting threat that San Antonio desperately needs. With the lack of guard depth, Branham has a great opportunity to land a starting spot, while learning from one of the greatest coaches in league history.
21. Denver Nuggets
Blake Wesley, G Notre Dame
This pick slid in so easily as Denver could really use another scoring option besides Jokic and Murray. Wesley will take time for coach Mike Malone and Denver, as he is truly a raw talent. His athleticism is off the charts and he is a force on offense both down low and on the perimeter, but he can be sloppy with the basketball, have poor shot selection, liability on defense and struggle at the line. Lucky for him, many of these will go away simply from not being the primary player on offense and the help of a great defensive team. Wesley may not be a Day One type of player but could blossom in a couple years for Denver.
22. Memphis Grizzlies
Jaden Hardy, SG G-League Ignite
Just like Minnesota is a step of New Orleans, Memphis is a step ahead of Minnesota. Ja Morant is an absolute stud and I see so many of the same things in his game that I saw in a young Russell Westbrook. I truly believe Memphis beats Golden State if Jordan Poole doesn't take out Morant, especially with the way the surrounding cast stepped up. The biggest need for the team is depth at guard, and with Desmond Bane playing more SF than SG, the Grizzlies could use some help at the position. Hardy seems like a good fit either starting alongside Ja or coming off the bench, which makes it a solid late round pick for Memphis.
23. Philadelphia 76ers
Nikola Jovic, F Mega Mozzart
I would first off like to say that I would absolutely love if Jovic gets drafted by Denver. Nikola Jovic and Nikola Jokic would be absolutely hilarious, but I also think he'd fit in well there. However, I think he is also a great fit in Philly. He and Tobias Harris would be a great forward combo, especially with the size and spacing of superstar Joel Embiid. Along with that, Coach Doc Rivers has a tremendous backcourt duo of James Harden and Tyrese Maxey to contend for another championship.
24. Houston Rockets (via Milwaukee)
Houston receives 24th overall pick
Milwaukee receives 26th overall pick, 2025 First Round Pick
Walker Kessler, C Auburn
Both Houston and San Antonio will be looking for a franchise center and will likely be watching Walker Kessler very heavily throughout the draft. With Milwaukee pretty much set everywhere, they would be more than willing to trade down. Houston moves up two spots to jump the Spurs and take Kessler. The Auburn big man averaged a stunning 4.6 blocks per game last year plus 11.4 ppg, making him one of the best values late in the first round.
25. San Antonio Spurs
Jake LaRavia, PF Wake Forest
The Spurs may miss out on Kessler, but end up taking Jake LaTravia from Wake Forest. It may not be the flashiest pick, but LaRavia can bring a little bit of everything for the Spurs. He would fit in well as a rotational player for Pop, and given an opportunity, could establish himself as a starter on the team.
26. Milwaukee Bucks (via Houston)
Houston receives 24th overall pick
Milwaukee receives 26th overall pick, 2025 First Round Pick
Christian Braun, SG Kansas
After trading down a couple spots, Milwaukee still ends up with the perfect player to fill their biggest need: perimeter shooting. Braun is primarily an outside shooter, but that is all Milwaukee will need him to do. This is a great value pick late in the first round, and Braun could find himself playing a key role in the Buck's rotation as they seek to claim another title.
27. Miami Heat
EJ Liddell, PF Ohio State
Miami has a lot to look forward to this upcoming season and few holes to fill. With PJ Tucker likely to move on, the Heat need to fill his spot, whether through the draft or free agency. I believe they will definitely do the latter, but also think Liddell this late in the draft is a great pick. With Bam Adebayo established as a dominant center, the undersized Liddell will be able to slide in next to him and make an impact as a stretch four.
28. Golden State Warriors
Trevor Keels, SF Duke
The rich get richer. Golden State could probably put together two playoff-caliber starting lineups with their depth, and they land another piece with Trevor Keels falling into their lap. There really isnt anything this team needs at this point, so they likely would either trade the pick or take the best available, which in this spot is Keels.
29. Memphis Grizzlies
Dalen Terry, PG Arizona
When Morant did get taken out by Poole, the biggest struggle Memphis had was his replacement at point guard. The Grizzlies will likely use one of their first rounders to find Morant's backup, and in this spot it is Terry. At 6'7" Terry can also stretch the floor, giving Taylor Jenkins another option for the SG position.
30. Denver Nuggets
Christian Koloko, PF Arizona
The Nuggets currently have Michael Porter Jr. and Aaron Gordon as their starting forwards, which is pretty solid, but their backups are Zeke Nnaji and Jeff Green. Koloko is the perfect backup to play alongside Jokic or Boogie Cousins in Denver. He may even be able to find himself in the starting lineup throughout the year if MPJ continues to struggle with injuries.
Round 2 Picks 31-60
Indiana Pacers
Kennedy Chandler, PG Tennessee
Orlando Magic
Peyton Watson, SF UCLA
Toronto Raptors
Bryce McGowens, SG Nebraska
Oklahoma City Thunder
Wendell Moore Jr., G/F Duke
Orlando Magic
Patrick Baldwin Jr., PF Milwaukee
Portland Trail Blazers
Jaylin Williams, C Arkansas
Sacramento Kings
Khalifa Diop, C Senegal
San Antonio Spurs
Kendall Brown, SF Baylor
Cleveland Cavaliers
Andrew Nembhard, PG Gonzaga
Minnesota Timberwolves
David Roddy, PF Colorado State
New Orleans Pelicans
Hugo Beeson, PG New Zealand Breakers
Sacramento Kings
NY receives 4th overall pick, 49th overall pick
Sacramento receives 11th overall pick, 42nd overall pick, 
2023 First Round Pick (via Dallas), 2024 First Round Pick
Caleb Houstan, SF Michigan
Los Angeles Clippers
Ryan Rollins, SG Toledo
Atlanta Hawks
Max Christie, SG Michigan State
Charlotte Hornets
Dominick Barlow, PF Overtime Elite
Detroit Pistons
Justin Lewis, SF Marquette
Memphis Grizzlies
Michael Foster Jr., PF G-League Ignite
Minnesota Timberwolves
Josh Minott, PF Memphis
New York Knicks
NY receives 4th overall pick, 49th overall pick
Sacramento receives 11th overall pick, 42nd overall pick, 
2023 First Round Pick (via Dallas), 2024 First Round Pick
JD Davison, PG Alabama
Minnesota Timberwolves
Gabriele Procida, SG Italy
Golden State Warriors
Ismael Kamagate, C France
New Orleans Pelicans
Ron Harper Jr., SF Rutgers
Boston Celtics
Johnny Juzang, SF UCLA
Milwaukee Bucks
PICK FORFEITED
Miami Heat
PICK FORFEITED
Washington Wizards
Trevion Williams, C Purdue
Golden State Warriors
Alondes Williams, PG Wake Forest
Cleveland Cavaliers
Scotty Pippen Jr., PG Vanderbilt
Portland Trailblazers
Dereon Seabron, SG NC State
Indiana Pacers
John Butler, PF/C Florida State
Joey Keller is currently an intern at Q92 Sports. He currently hosts two separate podcasts, The Erie2Atlantic Show and the Jersey Boy Podcast: Revamped. For more content, follow @joeyokeller @erie2atlantic and @fsujerseyboys on Twitter.