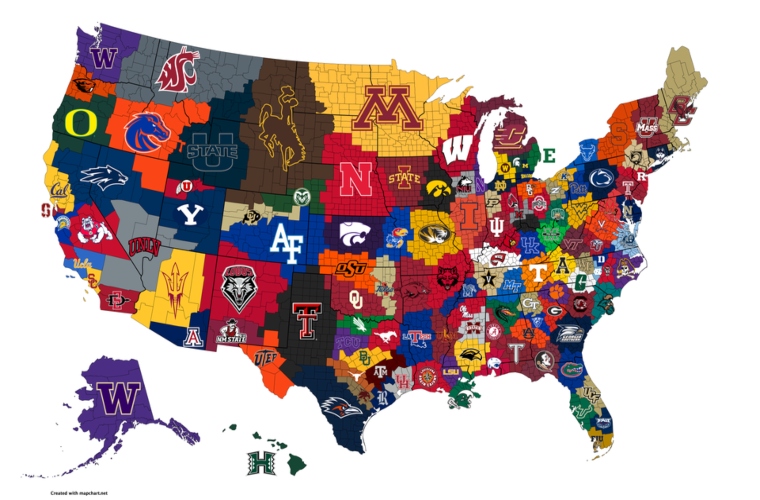 July 18, 2022
Joey Keller, Q92 Sports Intern
Almost one full year ago, on July 21, 2021, news broke that Oklahoma and Texas had announced plans to leave the Big 12 for the SEC. Since then, 22 teams have announced conference changes ranging from shifts among the Group of 5, moving up to the Power 5, leaving independence and even new FCS callups. Until a couple weeks ago, college football fans in Ohio, with the exception of Cincinnati, were not impacted with their teams and conferences staying put. But now Ohio State will have two new conference foes from the west coast and potentially more to come. While 17% of the FBS changing conferences seems like a lot, many, including me, believe there are even more moves coming, some that could cause entire conferences to dissipate. 
Impact on Conferences
ACC
New Teams: None
Departing Teams: None
The ACC is one of just three conferences (and the only Power 5 conference) to not gain or lose any members yet over the past year. And I focus on "yet." Rumors have been swirling for months and picked up steam this summer of a wide variety of schools leaving the conference for the SEC or even Big Ten or Big 12, with the main two being Florida State and Clemson to the SEC. There have also been rumors of North Carolina and Virginia leaving, but one would have to presume that UNC would be a package deal with archrival Duke, and likely the same with UVA and Virginia Tech. In the event any of these teams do leave, the most likely targets for Commissioner Jim Phillips would come from the Sun Belt and American, such as Appalachian State, Coastal Carolina, East Carolina and Memphis. A couple dark horses could be new FBS member James Madison or even Liberty, if they can move past their recent PR controversies.
Big Ten
New Teams: UCLA, USC
Departing Teams: None
The Big Ten sent shockwaves through college athletics just a few weeks back with the announcement of adding the Los Angeles-based UCLA and USC. So far in conference realignment, all the moves had mostly made geographical sense, with a few stretches, but the move makes the B1G span from coast to coast. The B1G had forever been seen as the conference of the midwest, with teams from Iowa to Pennsylvania and all the states in between. The additions of Maryland and Rutgers in 2014 pushed it further east to the Atlantic Ocean in 2014, but this new addition is obviously way more radical. Supposedly, the B1G isn't done yet, with rumors of adding Stanford, Oregon and Washington as well. Having already landed USC and possibly Stanford as well, it is possible Commissioner Kevin Warren is throwing bait with the goal of adding college football's prize fish of Notre Dame.
Big 12
New Teams: BYU, Cincinnati, Houston, UCF
Departing Teams: Oklahoma, Texas
The Big 12 was involved in the first move of the realignment last summer, losing its two most iconic members. While they'll never be able to recapture the icons of Oklahoma and Texas, they rebuilt about as well as possible by adding BYU, Cincy, Houston, and UCF. All four teams are in big markets with Salt Lake City, Cincinnati, Houston and Orlando. Cincy and UCF have also both the two best and most consistent teams in the Group of 5, while Houston has quickly turned into a top team in college hoops in past years. BYU also brings a large nationwide following and heavy viewership due to their monopoly of Mormon fans , similar to Notre Dame and Catholics. While the Big 12 may not be as strong as before, they were able to make the best of a bad situation, landing four of the best the Group of 5 had to offer.
PAC12
New Teams: None
Departing Teams: UCLA, USC
The biggest loser so far has to be the PAC12. Similarly to the Big 12, the PAC12 lost its two most iconic members, while also losing the Los Angeles market completely. While the Big 12 was able to reload and build around multiple strong programs to stay afloat, the PAC12 has no plans yet reported to add teams to what was already a weak conference. In terms of football, Oregon and Utah are about all that is left, while Arizona will be carrying most of the weight for basketball season. Bill Walton will now be stuck between a rock and a hard place to choose whether to follow his Bruins to the B1G and crown them as the "Conference of Champions" or to stay put with the dwindling PAC12. In terms of reloading, expect the PAC12 to try to recruit from the Mountain West, whether that be San Diego State, Boise State, San Jose State, UNLV or more.
SEC
New Teams: Oklahoma, Texas
Departing Teams: None
As the common saying goes, "The rich get richer." The college football kings of the past decade add a top five national brand in Texas and a top ten brand in Oklahoma to add to their collection of infinity stones. If there is one good thing to come out of this massive realignment, it is that Texas and Texas A&M will be reunited and fans can once again watch the Lone Star Showdown over Thanksgiving weekend. There is no love lost between these schools, but Texas must realize they are bigger fish to fry in the conference. Coming off a 5-7 season last year, Texas would likely be near the bottom of the ladder in the conference, with Oklahoma somewhere in the middle of the pack. Even after adding these two, it sounds like the SEC isn't done yet, as they are looking to add Florida State and Clemson. With the amount of money the conference is bringing in, we may not see them stop until every school between the Mason-Dixon Line and the Rio Grande is chanting "S-E-C" on Saturdays. It just means more (teams and money).
American
New Teams: Charlotte, FAU, North Texas, Rice, UAB, UTSA
Departing Teams: Cincinnati, Houston, UCF
The American looked like another conference that would take a fatal blow, but was able to revive themselves quickly by stealing half of CUSA. While many of the Group of 5 are just there to have a good time and occasionally pull an upset, the American has been determined to be among the Power conferences, like a younger brother wanting to play tackle football with the older boys. A common theme for the conference has been holding schools in bigger markets, and after losing three of them to the Big 12, they added six more in Charlotte, Fort Lauderdale (FAU), Dallas (N. Texas), Houston (Rice), Birmingham (UAB), and San Antonio (UTSA). While none of these teams have reached the success that their predecessors have, they look like they are more than capable of keeping the American at the top of the Group of Five.
Conference USA
New Teams: Jacksonville State, Liberty, New Mexico State, Sam Houston State
Departing Teams: Charlotte, FAU, Marshall, North Texas, Old Dominion, Rice, Southern Miss, UAB, UTSA
While the PAC12 may be the biggest loser overall and among the Power 5, Conference USA was hurt the most in the Group of 5. Not only will they lose six of their teams to the American in 2023, but they also lost Marshall, Old Dominion, and Southern Miss to the Sun Belt, effective this season. To make matters worse, Western Kentucky and Middle Tennessee were about to leave for the MAC, but ended up staying. CUSA has always been known as a transition conference from the FCS, so seeing teams leave is not a shock. This also corresponds with the new members as Sam Houston State and Jacksonville State will debut in the FBS once they join, while Liberty has seen success in the FBS with three bowl wins since moving up in 2018. Liberty had hoped for a better bid, but with plenty of controversy off the field, will have to wait for the dust to settle and hope for a call up in the future. New Mexico State may not add any value for football, but has established itself as one of basketball's best mid majors making the tournament every year but three since 2010.
MAC
New Teams: None
Departing Teams: None
There's not a lot to say about the MAC as the only thing that happened to the conference through this process was they almost brought in Western Kentucky and MTSU. In the end those teams stayed in CUSA and the MAC stayed complacent. The MAC has never been known to compete in football with teams rarely being ranked or in major bowl games. Kent State and Northern Illinois had a couple years of glory back in the early 2010's and Western Michigan rowed the boat to the Cotton Bowl classic back in 2016. Other than that, the conference is mainly known for their midweek MACTION games and nothing more. In terms of expanding, it would be unlikely for a team to move down to the MAC, meaning their only possible additions would come from CUSA, Independents, or an FCS callup. Independent UMass is a team to look at, but they also had a rough split from the conference back in 2014 as they wanted to be a football-only member, similar to UConn. This leaves the FCS teams to choose from such as Eastern Illinois or another Ohio team in Youngstown State as a possibility.
Mountain West
New Teams: None
Departing Teams: None
The Mountain West is another conference that hasn't been touched yet, but I once again emphasize the word, yet. With the PAC12 losing two key members, they will likely act as the Big 12 did to replace them, with the Mountain West teams being the most likely to get the call. Teams like San Diego State and Boise State have seen great success as of late, and would likely be the first to get invited, but schools like San Jose State, UNLV could be in the cards as well. If the MW loses some of its schools, it won't have many options geographically to add, but there are some good possibilities. New Mexico State is about to join CUSA, where UTEP currently resides, with both sliding in well, especially New Mexico State with their basketball success and existing rivalry with New Mexico. Eastern Washington has also spoken of their desire to move up to FBS and could be joined by the "Alabama of the FCS," North Dakota State.
Sun Belt
New Teams: James Madison, Marshall, Old Dominion, Southern Miss
Departing Teams: None
The Sun Belt may not have made the flashiest additions in the realignment, but they added high quality without losing a single member. Marshall has established itself as a solid Group of 5 program, while James Madison has been one of the best teams in the entire FCS over the past decade and together with Old Dominion, add an in-state rivalry in the Commonwealth of Virginia. The Sun Belt has established itself as a solid #2 in the Group of 5, but could surpass the American, thanks to the success of teams like Appalachian State, Coastal Carolina, Louisiana, and now Marshall.
Independents
New Teams: None
Departing Teams: BYU, Liberty, New Mexico State
BYU is the biggest winner here, as they finally get a coveted invitation to join a Power 5 conference. New Mexico State is just happy to be included in something, while Liberty is like the "Fringe Guy" who doesn't realize no one likes him but has an ego that thinks he's better than everyone else. Of the previous seven teams that are independent in football, three will be heading out in the next few years, leaving just Army, UConn, UMass, and of course Notre Dame. UConn and UMass both seem content with their status as they would only go to a conference if they were football only members. Army is likely in the same boat, as they could join the American with their respected rivals in Navy, while playing the rest of their sports in the Patriot League. Notre Dame is obviously the outlier here, as every conference in the country would salivate just thinking of adding them. This is likely the closest Notre Dame has been to fully joining a conference, and with the uncertain status of the ACC paired with the recent moves by the B1G, it feels like the Fighting Irish could possibly join Ohio State and Michigan in the B1G if they end up moving.
FCS 
New Teams: None
Departing Teams: Jacksonville State, James Madison, Sam Houston State
Three more teams were called up from the FCS to the FBS in this cycle of realignment, none of which were bigger than James Madison. JMU is the type of team that will likely compete right off the bat and could be playing in conference championships and bowl games as soon as they're eligible. Sam Houston State is likely another team that can make some noise off the bat, as they have also seen success in recent years, including winning the 2020 FCS National Championship. Jacksonville State was just a team that was good enough to move up to the FBS, but may take some time to adjust. Future teams that could soon move up include Eastern Washington, North Dakota State, Youngstown State, plus ASUN commissioner Ted Gumbart has publicly stated his desire to move the ASUN from an FCS conference to an FBS conference.
"How is my team affected?"
Ohio State
Ohio State has had quite the offseason. QB and former Heisman finalist CJ Stroud got to drive out of Canton in a brand new G-Wagon, the school somehow trademarked the article word "The," and receiver coach Brian Hartline somehow managed to recruit every single 5-star receiver that has ever been born. Life is certainly good in Columbus, and the team will be coming out hungry this year looking to avenge their loss to their hated rivals up in "The State Up North" while returning to the College Football Playoff. In terms of conference realignment, the Buckeyes will no longer have to make the Rose Bowl to play in SoCal, as they will have some occasional trips to visit their new conference mates in UCLA and USC. The two are both iconic brands, especially USC in football, and play in two of college football's most iconic venues in the LA Coliseum and the Rose Bowl. It will certainly be weird to see any B1G team playing at the Rose Bowl for a regular season game, but then again, times are changing. Neither team should pose an immediate threat to Ohio State's supremacy over the conference, but many consider USC close to being back as a national power thanks to new coach Lincoln Riley, and some media and fans are ready to hand them the National Championship before Riley ever coaches a game. Either way, they are the new blood and will have to prove themselves before they can be the king of the hill.
Cincinnati
Cincinnati is the only team in the state to actually move conferences, as they leave the American to join the Big 12. Cincinnati proved they were the best team in the Group of 5 and were ready to make the jump by going 22-2 over the past two years, with their only losses coming against Georgia in the Peach Bowl and Alabama in the CFP semifinal. With the Big 12 needing new members, the timing simply worked out perfectly for them. Cincinnati has proven they can be competitive against the Power 5, as they will likely be at least .500 when they move up to the Big 12. Conference championships and high rankings may take a few years with a tougher schedule to adjust to, but they have proven to be the most ready to handle it. With Texas and Oklahoma gone, they will likely be competing with Baylor and Oklahoma State, along with fellow new members UCF and BYU for the conference crown.
MAC Schools
Akron, Bowling Green, Kent State, Miami, Ohio, Toledo
The MAC stayed put through conference realignment and likely will continue to do so. The conference almost added two new members but mutually agreed with the schools not to. Overall, for the twelve teams in the conference and these six schools, nothing has changed. No one is trying to poach any schools and no teams are looking to leave. More than likely, unless a school in the midwest looks to jump from the FCS to the FBS, the MAC will remain with the same twelve teams.
Youngstown State
The past few years have been below average for the Penguins, but overall, YSU used to be a strong program at the FCS level. Fans have longed for the school to make the jump to FBS and it was considered during the late 1990's and early 2000's, but a recent lack of success makes a move unlikely. None of their conference foes are leaving either, but Murray State will join the conference in 2023.
Dayton
The other FCS team in Ohio resides down in the southwest area of the state. Unless you are a Dayton fan, student, or alumni, you may not have even known Dayton had a football team. Dayton plays in the Pioneer Football League of the FCS, which has had some realignment in the past couple years as well. Jacksonville University left for the ASUN back in 2020, while the conference added Presbyterian College and St. Thomas just last year. No matter what else is going on around it, Dayton is a basketball school and will be staying put in the FCS for football.
Joey Keller is currently an intern at Q92 Sports. He currently hosts two separate podcasts, The Erie2Atlantic Show and the Jersey Boy Podcast: Revamped. For more content, follow @joeyokeller @erie2atlantic and @fsujerseyboys on Twitter.