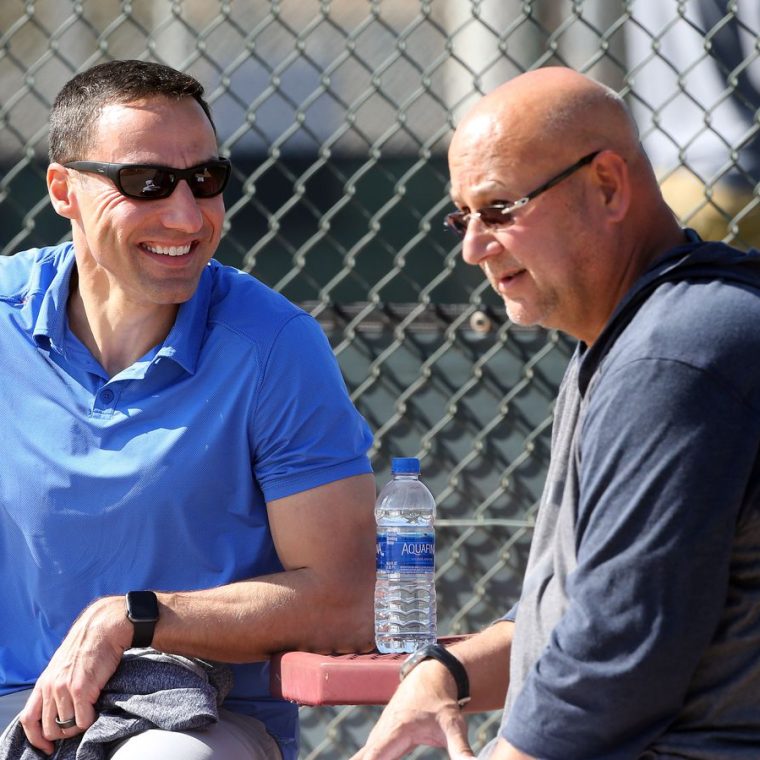 August 1, 2022
6 Players the Guardians Should Trade for to Contend This Year
Joey Keller, Q92 Sports Intern
2022 has been anything but a normal year for Cleveland sports, but then again, if there's one thing Cleveland fans are used to, it's uncertainty. You would think that the Cleveland Indians changing their name after 106 years would be the biggest story of the year, but with the upstart Cavaliers returning to championship contention and the Browns throwing away franchise QB Baker Mayfield for the controversial Deshaun Watson, many seem to forget the Guardians are even there at all. However, the Cleveland Guardians are here and even with all the injuries and roster turnovers, Manager Terry Francona has them on the verge of a playoff spot. Many wanted to see the Dolans and front office make a splash move this past offseason to kick start the rebrand, but now is their chance to redeem that hope at the trade deadline. Cleveland has had success at the deadline in years past, with acquisitions like Andrew Miller, Corey Kluber, Josh Naylor, Cliff Lee, and even Shoeless Joe Jackson. Fans want to see the team be aggressive and go get big names by Tuesday's 6pm deadline, so here are 6 players the team should bring in:
Trey Mancini, 1B/RF/DH, Orioles
2022 Stats: .268 AVG, .751 OPS, 10 HR, 41 RBI
Mancini has perhaps the most inspiring story in baseball, as just over 2 years ago, he announced he had Stage-3 colon cancer. Mancini fought back and by the end of 2020 was cancer free. Mancini would come back in 2021, hitting .255 with 21 home runs and 71 RBIs along with a runner up finish in the 2021 Home Run Derby. As much as Mancini is an inspiring story, he is also a great hitter with positional versatility. None of his numbers will jump off the page at you, but would be a massive improvement in an outfield that currently has one active player hitting above .225 and no one with double digit home runs. Mancini also has a mutual option for next year, but Dolan and Co. would have to pay him $10 million. Mancini would be a great veteran with a solid bat for one of baseball's youngest rosters, as Cleveland looks to return to the Fall Classic for the first time since 2016, and end baseball's longest championship drought of 74 years.
Andrew Chafin, LHP, Tigers
2022 Stats: 32 IP, 2.53 ERA, 1.062 WHIP, 39 K
Unlike the surprising Orioles run the past month, the Tigers are completely out of the playoff race, hence the likelihood of them selling. Chafin would be an instant upgrade for the bullpen, with disappointing years from a 34-year old Bryan Shaw, and an injured bullpen staff. Emmanuel Clase has been brilliant as closer, but the rest of the bullpen has been inconsistent. The Guardians are especially desperate for left-handed pitching, with just 2 active southpaws on the roster. Chafin could also reignite the "BROhio" vibe Nick Swisher brought to the club back in the mid-2010's, as he is a Kettering, Ohio native and Kent State alum (not to mention one of the best mustaches in all of sports). Chafin has been dealt at both of the past 2 trade deadlines, and it is likely he could be dealt at this year's as well. Chafin would take the top lefty spot in the bullpen and like Mancini, would be a great veteran presence on a young bullpen. Chafin also has a player option worth $6.5 million, that he would likely pick up this offseason.
Bryan Reynolds, OF, Pirates
2022 Stats: .251 AVG, .779, 15 HR, 32 RBI
Similar to Detroit, Pittsburgh is another team looking ahead to the future. Reynolds has another year on his contract, plus 2 years of arbitration, so Reynolds could easily stay put as well. It would likely take a team reaching out with a serious offer to get the ball rolling, but with a deep farm system and plenty of young players, Cleveland has the pieces to make it happen. Reynolds, a switch hitter, would fit perfectly in center field for Cleveland, as Myles Straw has done little this season outside of yelling at Yankee fans. Reynolds has also hit over .300 twice during his four year career also with great speed in the outfield and on the base paths to stretch singles to doubles and doubles to triples. Reynolds could be a mainstay in the outfield for the long term with rookies Steven Kwan and Oscar Gonzalez.
Martin Perez, LHP, Rangers
2022 Stats: 20 GS, 9-2 W-L, 2.52 ERA, 1.152 WHIP, 125 IP, 107 K
Martin Perez has been a true breakout player this season as he returned to Texas after 3 years in Minnesota and Boston. Perez is top 5 in the AL in ERA and top 10 in the majors in innings pitched. Texas is 7.5 games out of a playoff spot, and Perez is on an expiring contract, which lines up perfectly for both teams. Texas can add some pieces for their future, while Cleveland can bring in a solid lefty to the rotation for a playoff run. With their top 5 rotation pitchers missing time over the past couple seasons with injuries, Perez gives Cleveland depth and veteran experience, with the opportunity to extend him this winter. 
Ian Happ & Willson Contreras Package Deal
Happ 2022 Stats: .279 AVG, .796 OPS, 9 HR, 46 RBI
Contreras 2022 Stats: .252 AVG, .818 OPS, 14 HR, 38 RBI
The Cubs had one of if not the biggest deadline fire sales we have ever seen last July, trading away franchise cornerstones in Kris Bryant, Anthony Rizzo, Javier Baez, and more from their 2016 championship roster. Few players remain, and there are few top notch players left on the roster, but both Ian Happ and Willson Contreras are likely to be shopped. Happ has had a great breakout year, being named a first-time all star right before he is set to hit arbitration. Happ would be another massive upgrade in the outfield for Cleveland, especially as a switch hitter. Happ may not be a massive power hitter, but with 25 doubles, he is about to drive in runs and put himself in position to score.
Contreras, on the other hand, is an upcoming free agent. The Guardians have been plagued by some of the worst hitting by catchers in the league, with 4 players combining to hit just .175 with 6 HR and 26 RBI. Contreras has been one of the best catchers in the game this season, which led to him starting in this year's all star game, and is by far the best catcher on the market. Contreras could fill the biggest hole on the roster with a massive upgrade, and as an upcoming free agent, Cleveland could make him their franchise catcher for the foreseeable future. Trading for a package with 2 all stars would carry a heavy price, even with a team like Chicago looking to move them, but if Cleveland makes a package deal for the 2, it could suddenly make them the front runner in a struggling AL Central division.
Joey Keller is currently an intern at Q92 Sports. He currently hosts two separate podcasts, The Erie2Atlantic Show and the Jersey Boy Podcast: Revamped. For more content, follow @joeyokeller @erie2atlantic and @fsujerseyboys on Twitter.